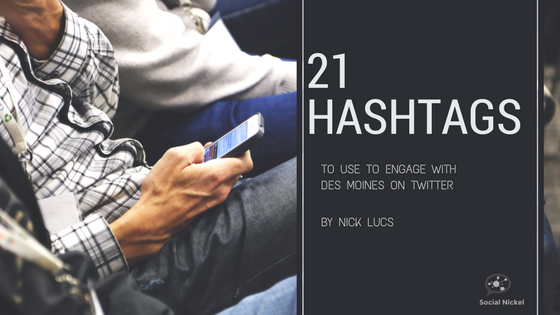 More and more these days, hashtags are popping up all over central Iowa. For almost every event that is created, there is some creative hashtag that goes along with it. These are some of the more popular hashtags that people follow and engage with on social media in Des Moines.
General
#dmjobs | Looking for work? This hashtag is always flowing with the newest jobs available.
#dmweather | There are multiple weather hashtags to use when sharing storm photos and other weather realted news. #DMweather is one and then #iawx, and #dsmwx are two other options.
#dmtraffic | The traffic hashtag doesn't get updated too often, but if you do have some time (at a red light) and you see backups, be sure to use #dmtraffic to share the news.h
Events or Groups
#smcdsm | Social Media Club Des Moines is a group for business owners, educators, professionals, enthusiasts, and users of all social media to provide a forum for education and collaboration on social media technology, platforms, and strategies. The club does a great job of keeping the hashtag stream full of fun and engaging content. From speakers, to selfies at events, you can get a good idea of what #SMCdsm is all about.
#techbrew | Technology Association Tech Brew is a networking event for entrepreneurs, educators, technologists, business people. They provide 5 different tech brew locations per month. Keeping up with all of the information can be simplified by adding a #techbrew column to your Tweetdeck.
TechBrews are hosted monthly in communities across Iowa:
Central Iowa – Des Moines and Ames
Eastern Iowa – Iowa City and Cedar Rapids
Cedar Valley – Cedar Falls and Waterloo
North Iowa – Mason City and Clear Lake
Quad Cities – Davenport and Bettendorf
Great crowd at the 1st North IA #TechBrew at Clear Lake this week! @myniacc @VisitClearLake @NIC_EDC @laketimebrewery pic.twitter.com/prUxtm09qj

— TechnologyIowa (@TechnologyIowa) May 18, 2017

#TeamYESS | Youth Emergency Services & Shelter provides safety and support to kids and is such a great service for the community.
#BikeToWorkDSM | Follow along while people take pictures of their commutes via bikes! You'll catch some awesome sunrise pictures, and photos featuring some awesome bikes.
Day 4 of #BikeToWorkDSM: picking up a few groceries at @FourthCourtHV pic.twitter.com/OiBucXI1vV

— Scott Bents (@ScottBents) May 18, 2017
#DSMpianos | Check out some of the videos people shared while playing the pianos in downtown Des Moines.
#DesMoinesEats | Find some awesome eats located in Des Moines. If you are hungry, I wouldn't look here. 😉
#RecycleDSM | For a greener and cleaner Des Moines, recycle!
#ArtRouteDSM | 87 pieces of public art displayed throughout Des Moines. Use the hashtag and follow the green dots.
Have you explored #ArtRouteDSM yet? Discover this amazing resource that connects 87 pieces of #dsmpublicart: https://t.co/GhgUrUmj3c pic.twitter.com/WGHT3ezWpP

— DM Art Center (@DMArtCenter) April 12, 2017
#GoWhereItTakesYou | Heading to the Des Moines Art Festival? Use this hashtag to show off your favorite paintings and also some snaps of the free concerts.
#GlobalDSM | Elevate Des Moines as a global community. The Global DSM: Trade and Investment Strategy was developed by The Partnership while participating in the Global Cities Initiative, a joint project of the Brookings Institution and JPMorgan Chase. For more information, visit here.
#OnlyAtElBaitShop | The best beer bar in the country. Share what your drinking, and see what's on tap from the best bartender, Pete!
Jimmy Carter Happy Hour tonight #OnlyAtElBaitShop! Plus this pic.twitter.com/SSdzHuoVyE

— Pete (@peterholmgren) April 6, 2017
#CatchDSM | Everything you need to know about Des Moines. For travelers, and locals, this hashtag is a must follow.
#DSMUSA | This is another great feed of keeping a pulse on Des Moines. A lot of news regarding Des Moines is shared through this hashtag. You can find the latest article that ranks Des Moines, Partnership news, and other highlights that make Des Moines awesome.
#DTFM | A market lovers dream feed. Great photos of all of the vendords, dogs, murals and more.
Celebrate #MemorialDay Weekend at the Downtown Farmers' Market presented by @UnityPointDSM. #DTFM #DSMUSA #DesMoines https://t.co/nHDNjJVR0m pic.twitter.com/mxe2G1Jzvq

— DowntownFarmersMkt (@DTFarmersMarket) May 23, 2017
#EnjoyYourExile | Beer Twitter is strong in Des Moines. Exile Brewing has a creative hashtag that is fun to follow along with.
Nothing better than enjoying a few Exile cans 14,410ft up!! 🏔🍻 #enjoyyourexile pic.twitter.com/MstlcBXePk

— Exile Brewing Co. (@ExileBrewingCo) May 22, 2017
Sports
#cyclones | The latest news regarding Iowa State Unversity athletics. It's a great feed to engage with during football and basketball season. Don't look at it though when you're streaming a basketball game. #SpoilerAlerts.
#hawkeyes | The latest news regarding The University of Iowa athletics.
#DUriseup | The latest news regarding Drake University athletics.
#IowaCubs | Couldn't make it to the afternoon baseball game? No worries! Keep up to date with the latest game with this hashtag.
What are some hashtags that aren't on the list that you like to use? Tell us in the comments.